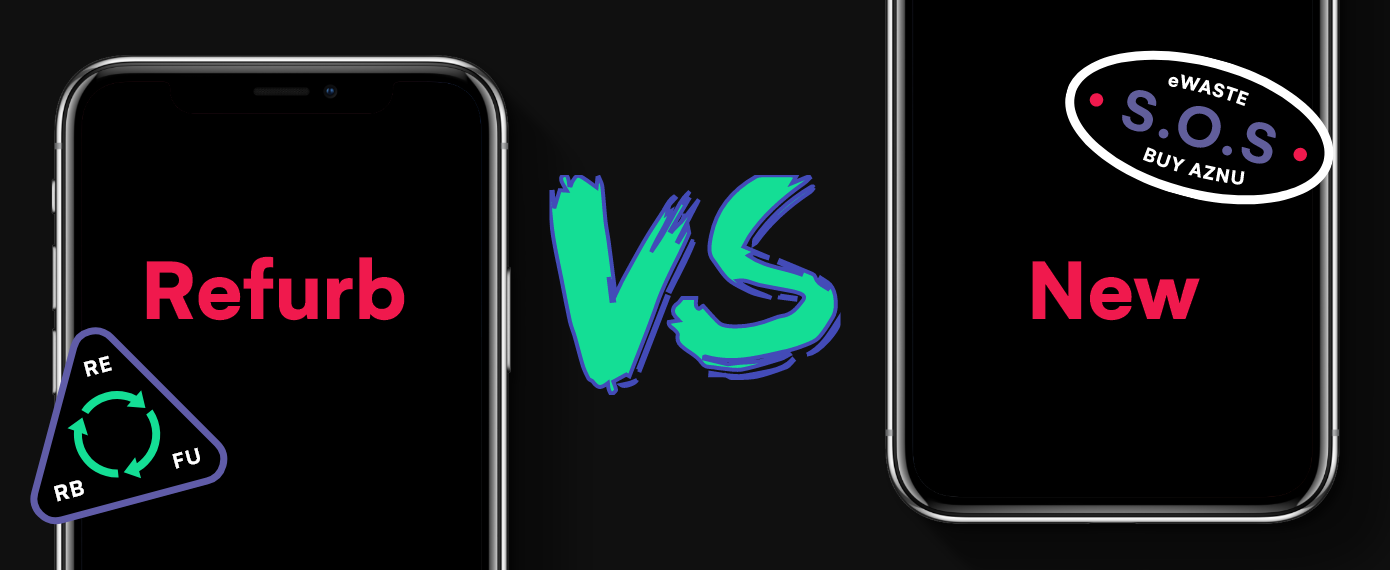 We all want the latest tech, but is splashing out on a brand new phone always the best idea? Many of us do so without a second thought when replacing our mobiles. But there's another option that could save you lots of money and help the planet too (without skimping on quality).
Buying a refurbished phone means you're giving a device a second life, rather than sending it to landfill where it can cause serious environmental damage. There are many other benefits too, but some people are understandably wary of buying a previously-owned device. We totally get it! That's why we've put together this handy little guide so you can compare the benefits of buying brand new vs refurbished.
Cost
Refurbished phones are almost always cheaper than purchasing the equivalent phone model brand new. Like with most things that have been previously owned, you're likely to get a discount on the retail price. While the exact saving depends on aspects like the brand, model, and supplier, the average refurbished phone can cost up to £200 less than its unused counterpart. Not bad, right?
Quality
In an ideal world, all refurbished phones would be of comparable quality to new ones. However, as there are no industry-wide trading standards or regulations on refurbished phones, the term is often just shorthand for second-hand.
Properly refurbished mobiles should work as if they had just come out of the box for the first time, with no obvious signs of wear and tear. This is exactly what we sell at Aznu. Regardless of the condition we receive the phone in, we always run comprehensive tests to ensure every single refurbished phone we sell appears and operates as good as new. So, while you won't actually get a brand new phone, you'll have a phone that looks and performs just like one, and at a cheaper price.
Beware of "graded" refurbished phones
It's also important to be wary of "graded" refurbished phones. Some manufacturers grade their refurbished phones on a scale based on the amount of wear and tear the device has. So, if you opt for a lower-end "grade C" mobile, you can expect the quality of the device to be significantly worse than that of a new phone (both in terms of cosmetic appearance and performance).
We will never give our phones a "grade" as all of the devices we sell are in premium condition.
Environmental Impact
Ready for a scary statistic? About 50 million tonnes of e-waste are generated each year, and a massive chunk of that is made up of old mobile phones.
When we get rid of our old or faulty devices, the large majority end up in landfill. This might seem convenient, but it's a big waste of finite resources with dangerous environmental effects. Phones leak lead and other toxins when discarded, contaminating water and releasing harmful chemicals into the air.
That's why refurbished phones are an inherently eco-friendly choice. By preventing existing mobiles from going to waste, you can do your bit for the planet.
Still unsure if you want to buy refurbished or new?
For us, there is one clear winner when it comes to deciding between new or refurbished phones.
Considering we sell top of the range iPhone and Samsung models here at Aznu, you won't miss out on your favourite brands. Not only this, but our 12-month warranty covers you should anything go wrong with your purchase in the first year, and because we're extra nice, we even throw in Norton 360 Deluxe internet protection too!
Still not convinced? Then be sure to check out our full guide to refurbished phones to learn even more about the topic, as well as the Aznu difference. We're also here if you want to ask us any questions directly — simply contact us with any questions or concerns (don't worry, we're friendly).